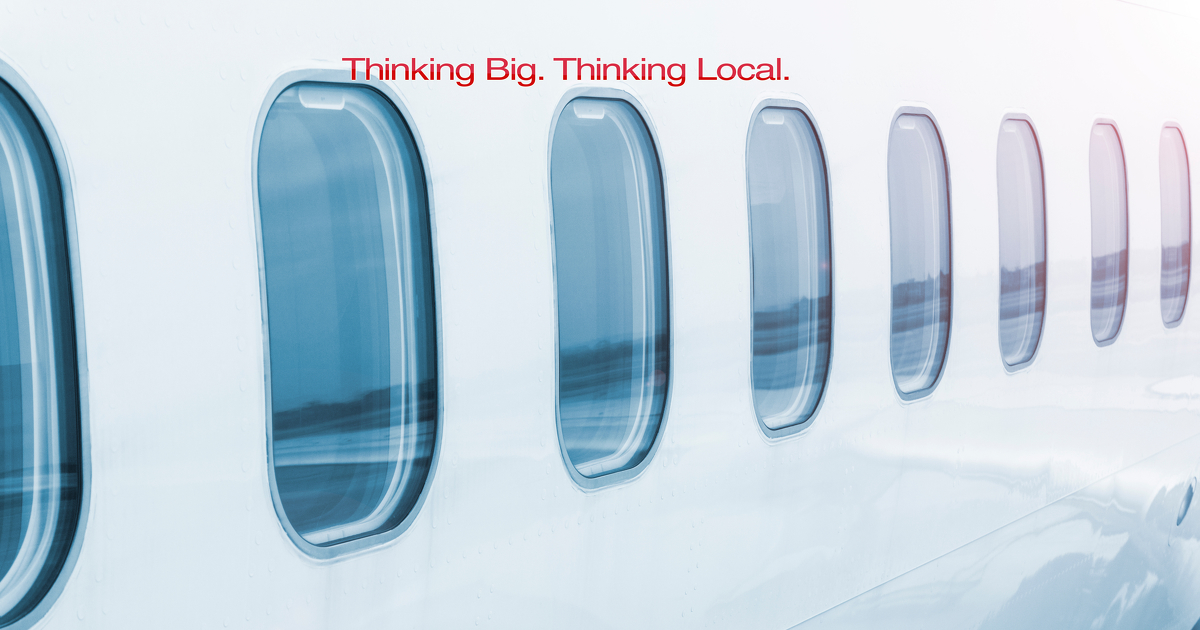 Supporting aviation and communities.
Thinking Big. Thinking Local. Union Coast Airways aims to be an aviation e-commerce marketplace connecting passengers with local merchants by offering free flights in exchange for purchasing local activities, goods, travel and services. We believe, a city with strong air service increases the value of the region as well as stimulates more local economic growth.

Flights through partnerships.
We can't do it without you. We have a new approach, we partner with cities to offer free flights through local sponsors.
Our route network is you. We want to reshape small and large cities by building aviation traffic.
In an effort to provide nation-wide economic growth, Union Coast will work with established air carriers to charter airplanes to offer our own non-stop flights from your local airport using our advanced community-focused booking system.
Initiative meets innovation.

Smaller cities are going to need to innovate to stand out. Small cities have great businesses and attractions that are waiting for passengers. Imagine how much growth your local business can experience with the help of aviation. We find opportunities to push your local business from good to excellent using air travel. If you're ready to start growing your local airport, we are here to help you succeed.
At Union Coast, we work with community leaders to give full control of your travel and tourism future. Established airlines most likely control where and when flights are scheduled. Not everyone wants to travel to a massive, busy, complex global hub all-day every day. Having no control over where and when flights are scheduled, limits the power of local economic growth. We want you to help us make a local travel vision based on where your community wants to go.

Established airlines have a way of using complex aviation terminology like ASMs, PRASMs, Load factors, etc. —but do not be intimidated. We can give you the information you need to move forward with your goals while giving you access to our technology to track the progress.
Our Company purpose is to bring free, safe, quality air-service to under-served airports. We believe local businesses and organizations can come together as sponsors of flights to new markets. The sponsorship serves as a form of advertising and can serve as a subsidy that is passed on to passengers or residents in the form of free or discounted travel.
There is one thing we know for certain: innovation is at the core of Union Coast and great American cities. We are going to be rebuilding America's air commerce infrastructure - leveraging the strength of the American city, driven by it's hard working people. Our team simplifies the entire process through our technology and industry experience.
Aviation Growth. Local Growth.
The air transport industry's most important economic contribution is through its impact on the performance of other industries and as a facilitator of their growth. It affects the performance of the local economy, improving the efficiency of other industries across the whole spectrum of economic activity.
Air transport can act as a spur to innovation by encouraging effective networking and collaboration between companies located in different parts of the region. A good transport infrastructure can also encourage greater spending on research and development by companies – for example, increasing the size of potential markets allows the fixed costs of innovation to be spread over larger sales.
Air transport employees are highly skilled, trained and experienced and the industry carries out intensive research and development.
The air transport industry is one of the most efficient sectors measured in terms of GDP per worker. At US$ 65,000 per worker per year, this is around three and a half times the average across the world economy as a whole and exceeds most other sectors of the economy. This means that air transport employees individually make a greater contribution to the global economy.
Please feel free to get in touch using the contact form. We'd love to hear your thoughts and answer any questions you may have!


EMAIL | freeflights@flyunioncoast.com

PHONE | (917) 310-3014
MAILING | 369 Lexington Ave, 2nd Floor, New York, NY 10017